Single Hung Tilt Windows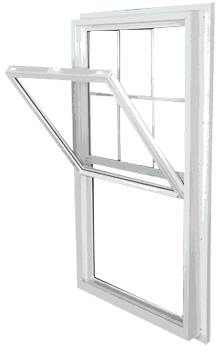 The Single Hung windows are a flexible and practical window that will accent any room and compliment any interior decoration. They combine a traditional look with ventilation capability - an excellent choice for multi-room homes or residential buildings, where architectural integrity must be maintained, but individual ventilation needs must also be accommodated. Only the bottom sash operates, by tilting inwards. Fresh air can enter and exterior cleaning can be easily done from inside. The upper part of the window is fixed to maintain thermal efficiency. Single Hung Tilt windows are designed with a structural frame and sash that fill large openings. With a thermally sound design, the Single Hung window will keep your interior cozy at a great price.
Special Features and Benefits
Sash tilts in, permitting easy exterior cleaning from inside.
Removable half screen lets you enjoy fresh summer air while keeping insects out.