Double Hung Tilt Windows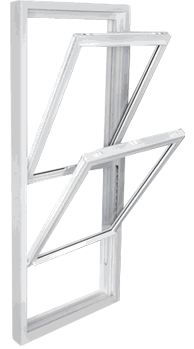 The Double Hung Tilt windows are an elegant spin on a traditional window style seen in homes everywhere. These flexible windows can satisfy sophisticated styling expectations while providing the maximum flexibility in ventilation options. Far from being simply practical, the Double Hung Tilt windows offer a home-enhancing classic appearance. Both sashes tilt inward to let in fresh warm air, yet close securely and are thermally efficient on the coldest days. They come with a full size screen. With an efficient spiral sash balance system, the Double Hung Tilt windows can be held securely in any position; letting you comfortably clean the exterior.
Special Features and Benefits
Both sashes tilt inward for effortless cleaning from inside the home.
Removable full screen lets you enjoy fresh summer air while keeping insects out.
Stainless steel constant force balance system insures smooth operation for years.
Full balance covers for a complete finished appearance.