Are you looking for a new entry door, replacing or upgrading an existing exterior door, ALTAZAR Windows & Doors can help you. Our doors will add to the beauty and value of your home while providing the comfort, efficiency and security. All our entry doors are energy efficient and built to the highest quality standards. Our highly experienced installation team will perform professional installation to ensure maximum efficiency and operability.
When it comes to choosing an entry door, it can be tough to know what product is best for you. There are a few different materials to choose from, including wood, vinyl, steel and fiberglass. We can help you to make a right choice by offering quality salesmanship and experience; all this along with hundreds of designs to choose from in many different styles of doors. Once you choose your favorite model rest assured that ALTAZAR Windows & Doors will complete all necessary arrangements and installation in timely and professional manner.
Steel Entrance Doors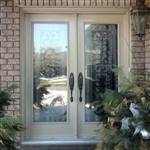 Steel doors are the best choice in terms of security and durability, and they are the most reasonably priced of all the doors. These entry doors are not solid steel; they actually have a foam core to increase the R-value. Steel entry doors provide a durable and energy efficient addition to your home that will last for years to follow.
Steel doors feature the strength of steel with classic door configurations. High-definition panel profiles create outstanding panel definition and add style and distinction. Steel doors are factory primed and painted with a baked-on polyester finish. Plenty of colours are available. A high-performance, composite material is utilized on all bottom rails, providing excellent rot-resistance. All decorative glass inserts feature double or triple-pane 1" insulated assembly providing maximum design selection and performance.
Make your home more secure with new steel doors that look as good as they perform.
Fiberglass Entry Doors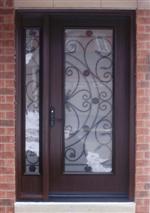 Fiberglass entry doors are a very good choice for any home, because their durability makes them extremely easy to maintain, and means that they are far less likely to need replacing. Fiberglass entry doors also offer a superior level of insulation, which can help to reduce your heating bills. Insulation from a fiberglass entry door is better than that of a wood door.
A fiberglass door isn't entirely fiberglass. The durable surface of compression-molded fiberglass covers a framework of wooden stiles and rails, including wood edges. The framework's voids are filled with CFC-free polyurethane foam insulation.
Fiberglass exterior doors have designer options such as beveled glass, unlimited door styles and stains. The high quality fiberglass doors realistically imitate the look of real wood, thanks to a combination of molded wood grain texturing and the fact that they can be stained to match most popular woods, such as oak, cherry, and walnut. While we can offer a huge selection of standard combinations, the custom doors and designs are also available.
Fiberglass is the right choice when you want a door that is beautiful, tough and secure.
Patio Doors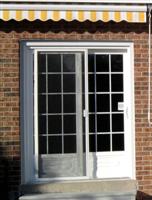 Patio doors will add beauty and comfort to your home. They provide easy access to the garden while allowing you to invite the outdoors into your home with smooth and easy operation; and all this without compromising tight and secure closure.
We offer sliding and swinging patio doors that are durable and insulating. They designed to provide comfortable inside temperatures and humidity levels in the dead of winter and maintain cooler room temperatures in the heat of summer while reducing your energy consumption. The combination of less conductive materials, double-glazed insulated sealed units using warm-edge spacer technology, low emissivity coated glass (Low-E Glass) combined with Argon gas, and 100% High-Fin weather-stripping will lower your energy cost.
Sliding patio doors more easily accommodate bigger openings than traditional and French doors. Sliding doors aren't just for patios these days; they can be used in a variety of applications inside your home. The classic sight lines and ease of operation combined with several color options allows this door to fit anywhere in your home.
Sliding and swinging patio doors are available in several standard sizes and are fully customizable to your specifications. We offer patio doors in various colors with an extensive range of glass type and decoration options. They also can be combined with several sidelight and transom options to create a spectacular entrance from your yard or patio.
Bring the outside scenery indoors without compromising on security and energy-efficiency.
French Doors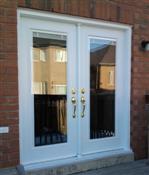 French door will bring beauty and elegance to your home all while providing the comfort, efficiency and security. When the weather is fine, they open wide to give unparalleled access to the great fresh outdoors and provide straight access to your patio or garden.
There are many glass options to choose from, whether it is internal Georgian bar, glass bevels or just simple clear glass. High quality hinges, handles and multi-point locking systems provide excellent security and long lasting polished furniture. Low-e insulated glass will also give you added energy efficiency.
While we offer a number of standard sizes, we can accommodate any custom requirements. With a wide variety of exterior and interior finishes, several sidelight, transom, grill & glass options along with multiple operational configurations there are endless combinations that give you an opportunity to create truly unique entrance for your home.
Add a real touch of traditional elegance to transform your home.
Storm Doors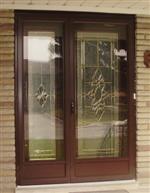 Storm doors are installed over your exterior door and serve to provide extra natural light and ventilation. They also assist in energy savings across all seasons by providing additional protection to the elements. Plus, they increase door answering security by providing a complete view of visitors before unlocking the storm door.
Whether you want to showcase your entry, seal a draft, let light in, or ventilate, the storm doors will work for you and will add value to your home. They are durable, energy efficient, stylish and innovative. They will last and provide you with virtually maintenance free experience.
You can choose from a large selection of strong and durable storm doors in several styles - fullview, midview and highview doors. Multi-vent storm doors feature a full screen and two movable glass panels, providing top or bottom ventilation; or both. Self-storing models with a half screen provide bottom sash ventilation and great durability. Wide selections of standard baked-on-enamel finishes are available to compliment your homes colour scheme.
Increase ventilation, natural lighting and home security while adding the value of your home
Whether you want something classy, yet elegant at an affordable price or more sophisticated entrance system, there are many options available to choose from. Choose the material, size, colour, finish and hardware, as well as the accent glass appropriate for your house - we offer many different configurations. Whichever option you choose, ALTAZAR Doors will provide you with
ENERGY SAVINGS by cost-efficient heating and cooling
COMFORT by keeping coziness inside your home and eliminating noise pollution from outside
SECURITY by state-of-the-art locking systems and the optional glass that helps protect your home against break-ins and unwanted intruders.
CONVENIENCE by minimum maintenance.
ENJOYMENT by beautiful appearance year after year and added resale value.
Add all these benefits to the MANUFACTURER'S WARRANTY and 10 YEARS INSTALLATION WARRANTY and you know YOU HAVE MADE A GREAT INVESTMENT.
Have one of our professional staff visit you at your home, at a convenient for you time, to assess your window and door needs. Please feel free to contact us 7 days a week for a no obligation consultation or estimate! Call Now (416) 986-2393