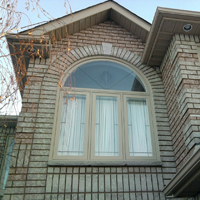 For new construction or renovation, uPVC windows are the perfect solution for home applications of all kinds. Nothing is more comfortable than a home fitted with high quality windows from ALTAZAR Windows & Doors! They will ensure decades of enjoyable performance, while sealing your home against any kind of weather. We offer a wide selection of windows designed for every purpose and decorated to any taste. From massive curved, bay, or picture windows to small sliders the selection of designs is practically unlimited with wide range of interior and exterior options, brick molding, grids and colors.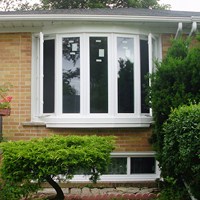 ALTAZAR Windows & Doors offers Vinyl Windows made from 100% lead free Polyvinyl chloride (uPVC) and engineered from the multi-chamber profile that maximize their insulation and give them unparalleled sturdiness. All Windows meet Energy Star compliance for energy efficient products. Reducing energy consumption not only helps cut costs and improve comfort around the home, but it reduces harmful emissions to the environment. The maximum performance and energy efficiency in our windows is achieved through the following strength and efficiency features.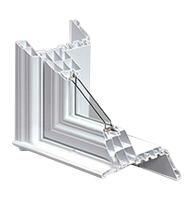 Strong, durable, maintenance-free vinyl construction never required painting, providing lifetime performance.
Multi-chambered profile insulates and prevents condensation.
Slim profiles guarantee maximum light penetration without sacrificing strength.
Fusion-welded frame and sash corners for strength, security and help to prevent air infiltration.
Triple co-extruded weather-strip sealing for added insulation value.
Low-emissive glass options provide maximum thermal efficiency and minimize wasted energy.
Double or triple pane glazing options with Super Spacer for maximum energy efficiency.
Full interlocking sashes for maximum security and minimum air infiltration.
Multi-point locking system provides additional security.
Whichever design you choose, ALTAZAR Windows will provide you with
Energy Savings thanks to the cost-efficient heating and cooling.
Comfort by keeping coziness inside your home and eliminating noise pollution from outside.
Security thanks to the state-of-the-art locking systems and special glass options.
Convenience with the minimum maintenance required.
Enjoyment from the beautiful appearance and added resale value of your home.
Manufacturer's and 10 Years Installation Warranties.
Very Competitive Prices that only include production and installation fees without any middleman surcharges.
Please feel free to contact us 7 days a week for a no obligation consultation or estimate! Call Now (416) 986-2393