Casement Windows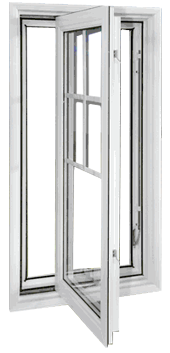 Easily operated, warm, quiet, secure and practical, the Casement windows are the most popular choice for any living room, bedroom or room with a significant view. The casement windows hinge open to the outside from the left or right. Tightly sealed, but with an excellent airflow in the open position, the Casement window is ideal for any time of year. In the colder months, the highly weather-tight design reinforces maximum heat containment, maintaining peak energy efficiency. And in the warmer months, the full 90 degree rotation provides optimum ventilation as well as cleaning opportunities.
Special Features And Benefits
90° sash opening lets you clean easily from inside.
Easy-clean, removable overlap internal screen.